This page is also available in:

Español
Today Dr.Moricky appeared again in social networks when he made a new drawing of little animals lying down and called it "oyasumimir". She also thanked Brujita Verde, who is responsible for initiating the miming phenomenon.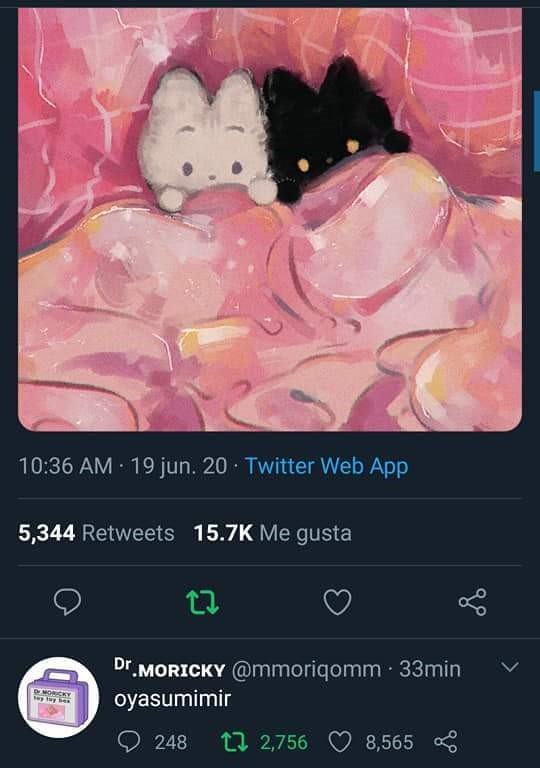 The drawing was published in his mmoriqommaccount and follows the previous publications of a mimir and two mimir.
On this occasion Dr.Moricky combined the Japanese expression oyasumi, an abbreviated and informal form of oyasumi nasai meaning good night, and mimir (a tender way of saying sleep in Spanish), resulting in oyasumimir.
Although what we just said is actually our theory, mmoriqomm explains it differently:
In the same thread, twitter users have published continuations of the drawing "two mimir" by including other little animals in the same bed:
To this, another Internet user reacted by saying, "We're going to need a bigger bed."
After this the Japanese artist thanked Brujita Verde, who was with her tweet that started the event of a mimir that has gotten so much attention to ᴰʳ.ᴍᴏʀɪᴄᴋʏ.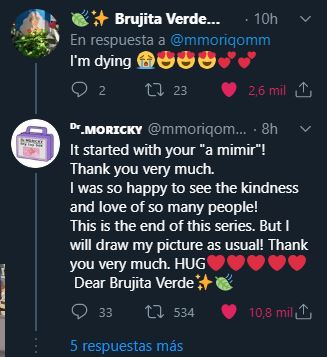 It all started with your "a mimir"! Thank you very much. I was so happy to see the kindness and love of so many people! This is the end of this series. But I will draw my picture as usual! Thank you very much. HUG♥♥♥♥♥ Dear Brujita Verde.

were Dr.MORICKY's words dedicated to Brujita Verde
You may also be interested in reading about the Venezuelan illustrator Alsacia Plaz, the Sugar and Salt illustrator.